ANDREA'S BOOK
Live Your Playlist
HOW TO GET YOUR SH*T TOGETHER ONE SONG AT A TIME
What is YOUR song? Why do you listen to the same lyrics over and over again? For motivation? Nostalgia? Heart break? Through story-telling and some adult language, Live Your Playlist: How To Get Your S*** Together One Song at a Time will tell you how to become empowered through the music that you love! Live Your Playlist is not a typical self-help book. You'll read advice on how to live your walk out song (after a bad breakup); how to fine tune your people picker (after a betrayal); how to be the lead actor in your life (when you doubt yourself); why to ignore "what ifs" (when you're redefining what you want to be when you grow up);the reasons to forgive (when you never hear the words "I'm sorry") and more! This book is honest and raw. Funny and heart-breaking. Strong and vulnerable. Live Your Playlist takes you on the writer's journey of job loss, betrayals, health scares and life-changing moments (including memorable exchanges with Hollywood A-listers). But behind every story, there is truth on how to become stronger, wiser and healthier while you're trying to get your s*** together one song at a time.
Reviews of Live Your Playlist
"I truly love Live Your Playlist! It is so well written and motivating! Having been raised by strong parents and then marrying a wonderfully strong woman, I feel this book has the tools to empower its readers to attain their goals and strive for the level of success they desire."
"Andrea has such a unique perspective on the world…no matter the medium, she projects a fresh voice that cuts through the clutter with a real-world directness that makes her so relatable…and I must say, very entertaining. A fantastic mix of wit, warmth, charm and smarts, she had me from the first moment we met, and I've been a fan ever since!"
"If her unparalleled personal style doesn't captivate your loins, rest assured her piercing gaze will pick up the slack."
"Andrea's story is a journey toward self-empowerment and healing. Live Your Playlist is funny, revealing, and poignant. Her writing style is distinctive, her words are witty, and I believe in her heartfelt message."
"Andrea's "Playlist" is music to my ears!  I have trudged through this business-of-show myself and I know that, at times, it can be as disenchanting as it is empowering to us girls.  No matter what genre of shit life throws at you, she shows you the path to help you boogie your way out of it.  Andrea polishes her vulnerability like a pair of red patent leather dancing shoes so that we, her new friends, can find our own groove.  I am proud to call her my DJ!"
"Andrea is a blast to watch on TV! Always fun and engaging with her guests and a very cool person to boot!"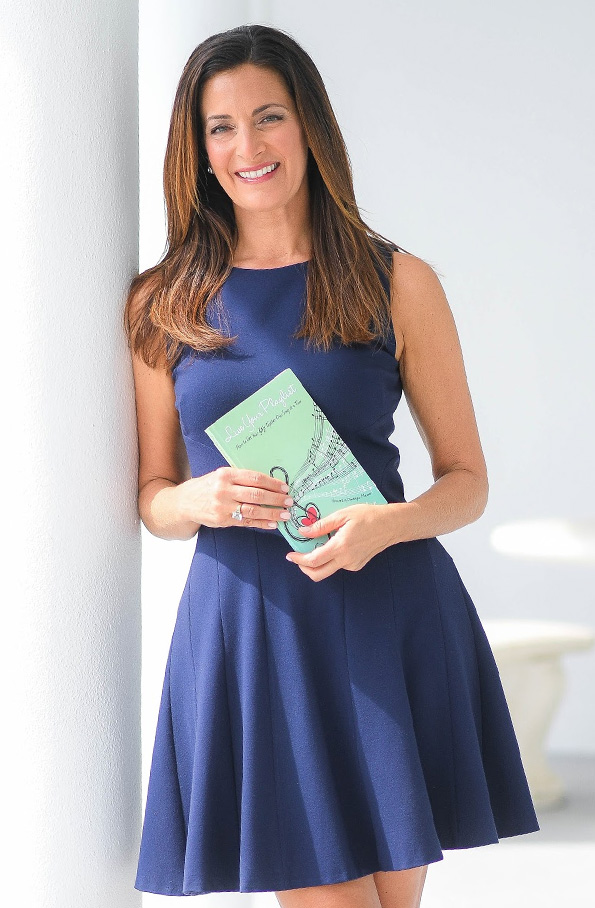 For two decades, Andrea Vecchio spent her professional days and nights as a television broadcaster. Andrea is an Emmy® nominated journalist who started her broadcast career working as a producer at the ABC affiliate, WEWS-TV, for Cleveland's legendary morning talk show The Morning Exchange. While working at WEWS-TV, Andrea had an early taste of things to come when she received an out of town assignment to interview Academy Award winner Tom Hanks. After spending three years as a producer in Cleveland, Andrea traveled to Zanesville, Ohio to begin her job as a news reporter for WHIZ-TV. After one year in Zanesville, Andrea returned to Cleveland and started working as a producer and entertainment reporter and talk show host for the NBC affiliate,WKYC-TV. It was here that Andrea traveled the world, interviewing hundreds of Hollywood's elite, including Robert DeNiro, Anthony Hopkins, Meryl Streep, Halle Berry, Denzel Washington, Russell Crowe, George Clooney, Julia Roberts, Matt Damon, Jennifer Aniston, Justin Timberlake and more! Andrea's passion for film led her to become a film critic and member of the Broadcast Film Critic's Association. 
During her time with the BFCA, Andrea was a voting member for The Critic's Choice Awards. And in 2011, while Marvel was filming The Avengers in Cleveland, Andrea was chosen by the movie studio to film a scene for the blockbuster movie (playing a news reporter). Many of Andrea's assignments took her all over the globe, including Los Angeles, London, Toronto and Bora Bora. It was in New York City that Andrea shot a television special called, Broadway Series: Sneak Peek. This half hour special brought Andrea her first Emmy® nomination. Soon after her Broadway Series special, Andrea was asked to guest star in the national tour of Chicago during its run in Cleveland. After 20 years in broadcasting, Andrea pursued her dream of a writing and speaking career. In 2014, Andrea published her first book, Live Your Playlist: How to Get Your S#&! Together One Song at a Time. After speaking to thousands of people through a camera lens every weekday, Andrea is now in high demand as an inspirational speaker and storyteller. And while a room filled with hundreds or thousands of people is a thrill for Andrea, she equally loves the intimacy of smaller groups.